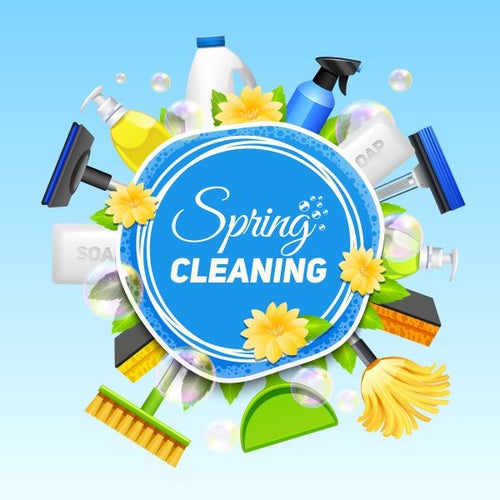 Spring means: butterflies, patios, open jackets, fresh air and inevitably, spring cleaning. Changes in the weather mean changes in our living space as the temperature rises. 
The great thing about living in a condo is that a lot of the year-to-year maintenance that most homeowners do themselves is done for you. 
So with that in mind, here are five tips to get your condo/townhouse/house ready for spring.
Clean everything inside:

the corners of your closets, the gaps between your air vent slats, your furniture, your door knobs and light switches, your walls (with a lightly damp cloth), your washer and dryer, the backs of your appliances, your carpets, your pillows.  
Bathroom and kitchen grout

, though, is one of the more porous surfaces in rooms that see a lot of heat and dampness—which means it's a great place for germs and mould to get started.
Seal, caulk, and repair:
inspection of your interior and exterior for gaps, cracks, and wear, and ask your landlord to reseal windows or caulk around any gaps
.
Clean out your

garage/locker/storage spaces

. Keep, recycle or donate.
Spray down the

windows and dust the blinds

. Wipe down the

walls and baseboards.

And even light

fixtures.
Scrub down kitchen cabinets and shelves. 
Deep clean the

fridge

and all of the

appliances.
Freshen up

carpets

with professional cleaning.
Replace the batteries in your

smoke & gas detectors

. 
Clean your

washing machine

and check the washing machine fill hose (should

replace them with metal hoses

).
Check and drain your

water heater

.

Bring out and wipe down

outdoor furniture

.
Examine

roof

shingles &

chimney.
Check your

gutters and downspouts
.
Repair any

cracked

or

peeling pain

t.
Clean or

replace HVAC filters

and clean the 

dryer vent

s.
Clean

decks, driveways, fences

and other outside surfaces.
Check for

rodents

in the
 attic, crawlspace, garage, shed, ceiling or wall.
Trim any branches

hanging over or touching your 
rooftop.